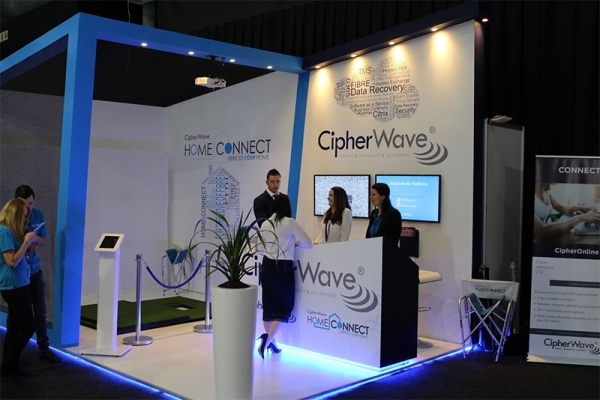 The countdown to South Africa's premier ICT event has begun. The MyBroadband Conference will take place on Thursday, 26 October 2017 at the Gallagher Convention Centre in Midrand. With top IT executives and professionals in attendance, this year's conference is set to be the biggest and best one yet.
CipherWave, a MyBroadband regular, is proud to be a gold sponsor at this year's event. Along with Home-Connect, their FTTH division, they will be showcasing their wide range of products and services.
CipherWave is a South African Internet Service Provider (ISP) that provides growing businesses with a range of solutions to help them connect, communicate and collaborate with their customers, employees and suppliers. They own and manage their own network infrastructure, which enables them to provide efficient, speedy service and support that their customers can count on 24/7.
CipherWave has been in business for over 7 years and provides the market with connectivity, voice and cloud solutions. It is also home to a category-5 biometric data vault, which is located in Midrand. They have secondary data centre facilities in Isando, Durban and Cape Town as well.
"While there may be similarities across the technologies that ISPs offer, we believe that it's our unwavering focus on exceptional service and dedication to exceeding the expectations of our customers and partners that sets us apart."  – Wayne D'sa, Managing Director.
Cloud has changed the way people do business. Efficiency, flexibility, agility and affordability is what every growing business needs. The ability to pick and choose as required and to have a solution that's scalable and grows with your business is a non-negotiable.
CipherWave's premium cloud offering includes Software as a Service, Infrastructure as a Service, Business Continuity and much more.
Virtual servers and co-location forms part of the Infrastructure as a Service product stack. CipherWave covers all your needs, from relocation of your IT infrastructure to their data centre to reducing hardware and resource costs through the use of virtual servers.
Business Continuity comprises of two components, Backup as a Service and Disaster Recovery as a Service. Backup is a highly dependable means of real-time, continuous data protection for servers, desktops and laptops, without any human intervention. Disaster Recovery is an off-site disaster recovery service that enables the virtualisation and start-up of applications quickly and seamlessly.
Wayne D'sa views them as long-term and short-term insurance, respectively. Backup ensures that your business remains compliant and your files are securely stored for a minimum period of 5 years, allowing you to restore backed up data should something go wrong. Disaster Recovery ensures that you are able to minimize the impact on customers should disaster strike, natural or man-made.
Business Continuity is no longer viewed a nice-to-have but rather a necessity. Just like insurance, can your company really afford to be without it? What would the cost of losing all your business data be?
Just last week Johannesburg was hit by heavy storms and strong winds which resulted in a large amount of damage to businesses and homes. And parts of Durban were underwater due to severe flooding. Disaster Recovery allows you to spin up your environment within hours and continue to operate as normal, with minimal impact on staff and customers.
Visit the CipherWave and Home-Connect stand at the MyBroadband Conference to find out more about their products and services, or for a quick round of golf.